Obituary for Barbara A. Schroeder (Rewolinski)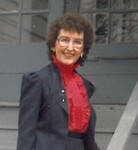 Iron Mountain-Barbara A. Schroeder, 77, of Florence, Wis., passed away Sunday, February 5, 2017 at her home.

She was born on March 23, 1939 in Milwaukee, Wis., daughter of the late Arthur and Eugenia (Marenda) Rewolinski.

Barb grew up in Milwaukee and graduated high school there. She married Thomas Schroeder on May 22, 1965 in Milwaukee. Barb along with her husband resided in Milwaukee for many years. She enjoyed working at St. Michael Hospital and Northwestern Mutual. Barb moved to Iron Mountain, Mich. in 1985 and in 2003 moved to Florence.

She enjoyed working crossword puzzles, gardening, playing cards, shopping, sewing, sharing stories of her experiences as she traveled throughout the country and especially spending time with her family and grandchildren.

Barb is survived by her loving husband of 51 years, Tom; one son, Michael (Tammy) Schroeder, Dafter, Mich.; one daughter, Lori (Bryan) Johnson, Kingsford, Mich.; four grandchildren, Mira, Griffin, Marleena and Matt (Sabrina); and by one great granddaughter, Madison.

In addition to her parents she was preceded in death by one son, David Thomas Schroeder in 1986.

Visitation will be held Thursday, February 9, 2017 from 10:00 a.m. until 12:00 p.m. at the Jacobs Funeral Home, Iron Mountain. Funeral Services will be held at 12:00 p.m. at the funeral home. Fr. Ray Valerio will officiate. Burial will be in Cemetery Park, Iron Mountain.

You may light a candle in remembrance of Barb or leave a condolence for her family online at www.JacobsFuneralHomes.com.

The family has chosen the Jacobs Funeral Home, Iron Mountain, to honor Barb's legacy of life.