Obituary for Rudolph M. "Rudy" Maki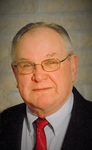 Rudolph (Rudy) Milton Maki, 80, of Iron Mountain passed away peacefully on Sunday, January 17, 2016, at his home.

He was born on March 18, 1935, in Ishpeming, Michigan, son of the late Leonard and Nannie Maki. He married Ruth A. Palomaki on February 18, 1956, and together they raised a family of four children, Bradley, Melanie, Chris, and Rodney. In 1963, the family moved to Iron Mountain where he continued his 25 year career with Metropolitan Life Insurance. Rudy also enjoyed construction and operating heavy equipment, so in 1985, he made a career change going to work for A. Lindberg & Sons, Inc., retiring in 1997.

While growing up in Ishpeming, he developed a love of ski jumping thanks to his lifelong friends and fellow jumpers, Coy Hill and the Bietila Brothers. He competed at his first ski jumping tournament at the age of eight and by the time he was eighteen was a recognized Class "A" ski jumper within the Central United States Ski Association. His jump of 300 feet at Iron Mountain in 1955 is still regarded as a historical event. He was a member of the 1956 and 1960 Olympic Ski Jumping Teams competing in Cortina, Italy and Squaw Valley, California.

He retired from jumping in 1960, but he wanted to give back to the sport that gave him so much, so he became an official and judge. He received his national certification in 1962, and in 1971, he was a certified FIS official. His role as an FIS official took him to ski jumping events in the United States, Europe, and Japan including the 1976 Olympics in Innsbruck, Austria, the 1980 Olympics in Lake Placid, and 1988 Olympics in Calgary, Canada. In other capacities he served as vice-president of the CUSSA Judges Association, President of the CUSSA Ski Officials Association and was currently serving on the Board of the U.S. Ski and Snowboard Hall of Fame in Ishpeming.

In 1958, Rudy made his first trip to Lahti, Finland jumping in the FIS World Championship. This was just the beginning of many trips to Finland. His friends, Coy Hill, Errol Moffatt, Willie Erickson, and Dr. Paul Jacobs eventually decided to join him for the yearly trip, and before long, they became known as the "Lahti Five." After meeting Eero Kuusinen in 1992, the "Lahti Five" made a vow to make the annual trek to Lahti for the ski games as long as their health would allow it. Due to their devotion to the sport, the "Lahti Five" became honorary members in the Lahden Hiihtoseura (Lahti Ski Club). In all, Rudy traveled to Finland thirty-four times. His last trip was in July 2015 when he introduced his grandchildren to the country he so enjoyed. While there, his Finnish Ski Jumping friends held a surprise 80th birthday party for him at the Lahti Ski Stadium restaurant, Voitto, which was the highlight of the trip for him.

Rudy was very proud of his Finnish heritage and was involved in establishing the Finnish American Raja Ryhma group in Iron Mountain in 1984. Over the years, he served on the board of directors and was the current President. He was also a member of the Kiwanis Club, Shrine Club, and Our Saviour's Lutheran Church.

Rudy was a devoted Detroit Lions and Detroit Tigers fan, and he was lucky enough to have lived long enough to actually see the Lions win a championship. Rudy enjoyed spending time with family and friends at camp on Grant Lake in Republic. He always had some chore or job that needed to be done, and many of them required the use of tractors, bulldozers, or other heavy equipment, which he enjoyed operating and repairing. They say a dog is a man's best friend, and that certainly was true with Penny, his dachshund, and Rudy.

Rudy was preceded in death by his wife of 58 years, Ruth, eldest son, Bradley, along with brothers Frank, Clyde, Melvin, and Alden (Hub) Maki, and sisters Vi Roseveare and Helen Kari.

Rudy is survived by his daughter Melanie (James) Olson; two sons Chris (Melanie) Maki, and Rodney Maki all from the Iron Mountain area; two grandsons; Dr. Brandon (Alyssa) Maki, and Korey (Amy) Maki; one granddaughter, Elina Maki and two great-granddaughters, Halle Kate and Holland Grace Maki. He is also survived by his sister Nannie Karno who resides in West Allis, Wisconsin.

Visitation will be held Thursday, January 21, 2016, from 10:00 a.m. to 1:00 p.m. at Our Saviour's Lutheran Church, Iron Mountain. Funeral Services will be Thursday, 1:00 p.m. at the church. Rev. Bob Gordon will officiate. Burial will be in Cemetery Park, Iron Mountain.

Pallbearers include Dr. John Dougoveto, Willie Erickson, David Holli, Dr. Paul Jacobs, Mickey Khoury, Dr. Brandon Maki, Korey Maki, and Errol Moffatt.

You may light a candle in remembrance of Rudy or leave a condolence to his family online at JacobsFuneralHomes.com.

The family has chosen the Jacobs Funeral Home, Iron Mountain, to honor Rudy's Legacy of Life.